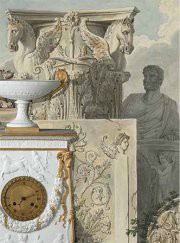 This exhibition from 18 March to 19 June 2017, at the Château de Fontainebleau (outside Paris), turns the spotlight on the architect and designer Charles Percier (1764-1838), celebrated during his lifetime as an outstanding artist, a fashionable designer and a respected teacher, yet whose legacy was largely ignored throughout the 20th century.
His reputation, acquired from his years of study, was made thanks to the prestigious commissions and the work he carried out under the Convention, the Directory, the Empire and the Restoration. In particular, he was responsible for major renovations to the Louvre and the project to create the Rue de Rivoli. For this work, French public collections have a considerable number of drawings, projects, and objects.
With nearly 150 works lent by the greatest French museums, but also by the Metropolitan Museum of Art and private collectors, this exhibition highlights the creative genius of Charles Percier, who paradoxically has no overall retrospective study has been made until now. Its aim is also to re-evaluate, during a whole period of illumination, an intervention in the arts which contributed decisively to opening the paths of modernity.
In particular, the exhibition focuses on Percier's contribution to the field of interior decoration and furnishings, whilst highlighting the passion with which he observed the older decors of the Château de Fontainebleau.
This exhibition which was presented at the Bard Graduate Center (New York) until earlier this year.
Link to exhibition in French
Fontainebleau Château Museum

Category:

Museums, Stately Homes and Residences

Region:

Paris and Ile de France

Address:

Château de Fontainebleau 77300 Fontainebleau, France

Access:

General public


Opening hours:

Chateau/Castle:

From October to May: 9:30am to 5pm with the last permitted visit at 4:15pm
From April to September: 9:30am to 6pm with the last permitted visit at 5:15pm

The Gardens:

From November to February: 9am to 5pm
In May, April and October: 9am to 6pm
From May to September: 9am to 7pm


Telephone:

+33 (1) 60 71 50 70
grou

Fax:

+33 (1) 60 71 50 71

Website: