Presentation of the exhibition by the museum
On 15 August 2019, it will be 250 years since Napoleon was born in Ajaccio.
The House, which now bears the name of his family, has become a national museum and was indeed the place where his family lived. A noble family among the most prominent in the city, the Bonapartes could not however dream of exceptional destinies by the mere fact their very birth. It took the exceptional abilities of some of them, their sense of historical opportunity, their eye to gauge their contemporaries, their total confidence in education and training, their incredible workforce to get there.
Napoleon's parents, the relatives who accompanied him in his youth, are already the actors of this ascent and the witnesses of this emergence.
Attentive to one of the first democratic experiences in Europe, that of Paoli, they were also very quickly understand the exceptional opportunity that the French Revolution would represent for them.
But during these thirty years (1769-1799), and especially during the first two decades, Napoleon's relatives were not famous enough for history to have kept their stories, nor rich enough to have commissioned portraits.
This exhibition has been developed from their history, based on late texts, often anecdotal, recalling the way of life of the Bonaparte clan in their daily lives; and also imagined portraits, drawn from the character traits that have come down to us from the inhabitants of the Maison Bonaparte.
Nevertheless, these accounts of the day-to-day life of the Bonapartes, are situated within the most recent research relating to Corsican society of time, and this perspective gives them their meaning. The publications of Antoine-Marie Graziani, who kindly associated himself with this project, provide the historical and social framework for this prodigious adventure that led them to the first thrones of Europe.
Each portrait in this imaginary gallery of ancestors will be illuminated by a comic strip strip narrating episodes emblematic of the character's life, by Charles Cianfarani.
Then, one by one, 9 scenes from Napoleon's childhood in Ajaccio will be shown, created by Frédéric Pierrot with Playmobil figures.
Finally, silhouettes of Napoleon's brothers and sisters will make it possible to identify and characterize them in relation to each other.
This exhibition is primarily intended for school children.
Jean-Marc Olivesi, General Curator of Heritage, Director of the Maison Bonaparte in Ajaccio
Musée national de la maison Bonaparte – Ajaccio
rue Saint-Charles 20000 Ajaccio (Corse du sud), France
+33 (0)4.95.21.43.89
A Playmobil re-enactment of a scen from Napoleon's childhood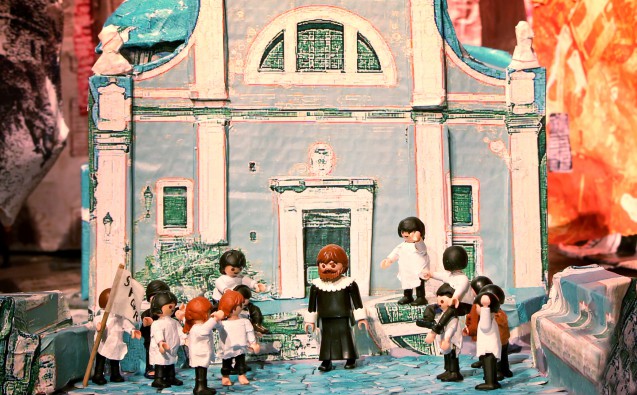 One of the comic strips from the exhibition
Press
An article in French (11/04/2019)