Political refugees were welcomed in England and allowed freedom of movement and speech. For the Imperial family their close friendship with Queen Victoria was also a factor, as was the proximity to France.
This quiet country town in Kent was to become the center of the French Court in exile over the coming years. The French flag flew, they were visited by Royalty including Queen Victoria and Czar Alexander II as well as politicians from across Europe. Plans to regain the throne were debated in its rooms. The Republicans posted spies up a windmill on the edge of the property to report on visitors. And Napoleon had spies watching the spies.
Mystery surrounds how the family ended up at Camden Place.
In 1860, a banker Nathaniel Strode purchased Camden Place[2] for £30,000 and set about transforming it from a Georgian country house to a "French chateau".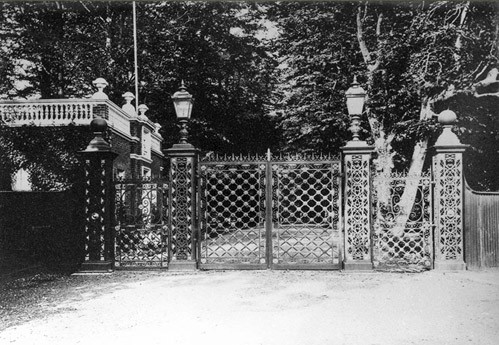 Strode added a new dining wing, panelling for it came from the Château de Bercy at a price of 12,000 francs. The panelling remains intact today (though in need of some conservation) and is considered to be one of the best examples of French craftsmanship of the period in England.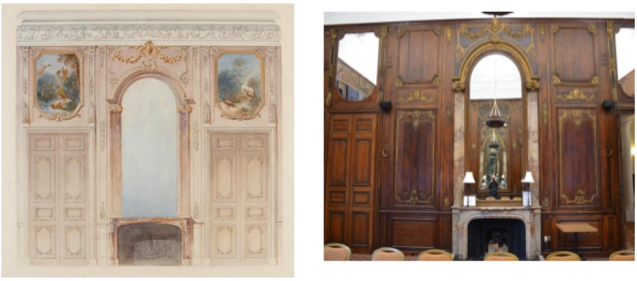 Strode added murals and art works featuring French and Flemish artists and the house was furnished for French taste.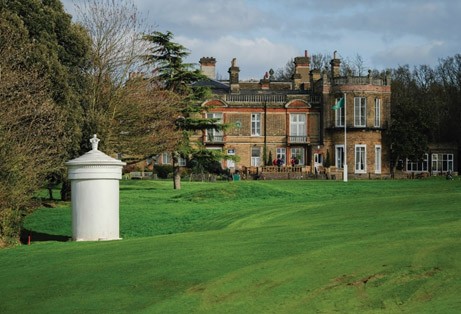 In the rear a replica of the Temple found at St Cloud had been added by architect James 'Arthenian' Stuart in the 1760s.
Why did the Imperial family end up at Camden Place?
Nathaniel Strode knew Louis-Napoleon from his days in London during his exile in the 1830s and 40s. Strode was a trustee for Harriette Howard, who became a long-term mistress and friend of Napoleon's, supporting and financing his political campaigns and ambitions, as well as bringing up two of his illegitimate sons.
A number of historians claim Louis-Napoleon had visited Chislehurst, though there is no evidence for this. The connection with the house appears to derive from his friendship with Emily Rowles, who received gifts from Louis-Napoleon amidst talk of engagement. The fact is that whilst Emily was indeed born there, her family left the house when she was three years old.
Strode claimed to have had a premonition that a home in England would one day be needed by the Emperor. It later came to light that Strode received 900,000 francs from the French Civil list in 1862 and 1864. By this time Miss Howard and the Emperor were estranged and the monies she had given him to fund his campaigns had been repaid but it may have been payments routed through Strode to help her as an old friend who was by then in some financial difficulties. We may never know the truth.
We do know that when the Empress fled from the Tuileries after the French defeat at the battle of Sedan in September 1870, Strode offered her the use of Camden Place which she accepted. The rent charged was far from a commercial rate.
She almost certainly knew nothing of Strode's friendship with her husband nor of his role as trustee for Ms Howard.
Napoleon at Camden Place
Once settled in Chislehurst Napoleon adopted the life of a country gentleman, walking to church and watching cricket. He wore suit and top hat not military uniform and travelled by rail to London, refusing a special train but simply travelling first class. The local children loved him as he always had pennies in his pocket for them.
Thoughts of a return to power for himself and importantly his son were still a subject of debate and planning.
Unfortunately, he was still a very sick man. The bladder stones which had incapacitated him at the Battle of Sedan continued to be a very painful problem.
The Emperor died in his bedroom at Camden Place in 1873, following surgery to deal with these stones.
 "The Emperor died on Thursday the 9th inst., and by Saturday the little village of Chislehurst was filled to overflowing with an influx of persons drawn thither by motive either of curiosity, of sympathy or of respect. The inns and other places of accommodation were speedily filled, and many, who had intended to stay at Chislehurst till after the funeral, were obliged to return to London to sleep. The bulk of these immigrants were naturally Frenchmen".
[Source: The Graphic published on 25 January 1873]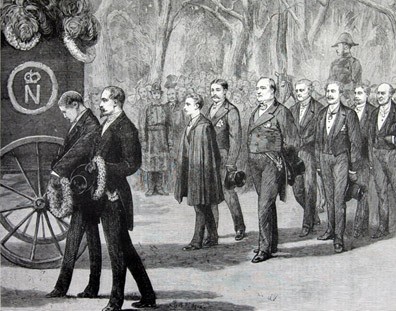 The hearse was drawn by 8 horses covered in black. The Prince Imperial walked behind followed by members of the Bonaparte family and representatives of the British and Italian Royal families.
Only 200 mourners could be squashed into St Mary's (where an effigy of Napoleon III can still be seen) while tens of thousands stood outside.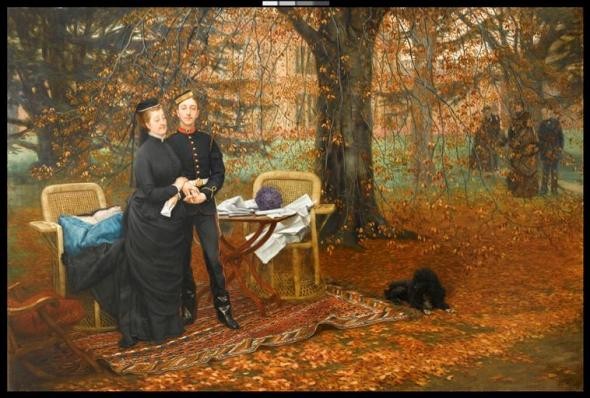 After Napoleon III's Death
Camden Place's part in the Imperial story does not end here. It was the back drop to the Prince Imperial's coming of age celebrations, shared by the whole village. At his coming of age in 1874, the Prince was feted in Chislehurst. Tom Bushell in Imperial Chislehurst describes the day:
'The railway station was gaily decorated and flew the tricolour of France, whilst in the main waiting room and inscription, wreathed in laurels and violets read "Vive le Prince Imperial 16 mars, 1874" – and Chislehurst really meant it'
There were no celebrations in 1879 when Chislehurst again played host to tens of thousands of mourners as the Prince Imperial was laid to rest in the little Catholic Church next to his father.
Having completed his education and military training as a cadet at Woolwich, when the Zulu War was declared in 1879 the Prince was passionately keen to be with his comrades in action, and despite his mother's objections, he obtained permission from Queen Victoria and the Duke of Cambridge, Commander-in-Chief of the British army, to go.
Although only supposed to be observing, the Prince Imperial's group went out scouting and were surprised by 40 Zulu warriors – his horse bolted and he was wounded and killed. The Prince Imperial's body was recovered the following day and brought down from Zululand to the coast, and whence back to England on board the British troopship HMS Orontes for burial in Chislehurst.
The people of Chislehurst collected the money for a large Celtic cross which stands opposite Camden Place on the road now named Prince Imperial Way.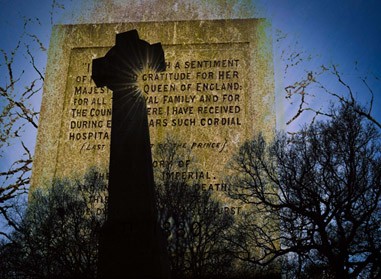 'While the splendid boulevards and avenues of present-day Paris and much of the city's architecture, implicitly memorialise the third Napoleon, it is left to a modest back road in a leafy London suburb to commemorate the young man who might have become the fourth.' (Napoleon lll and his Carnival Empire, by John Bierman)
The town of Chislehurst was the first resting place of both Napoleon lll and his son, the Prince Imperial. Eventually the Empress had an abbey built in Farnborough and the remains re-interred there.
Chislehurst still remembers its part in French history and celebrates its former Imperial residents. Street names include Royal Parade, Empress Drive and Prince Imperial Way.
For the last 125 years Camden Place has been the clubhouse for Chislehurst Golf Club. Its interiors have changed very little and by arrangement visitors are welcome to tour this house full of historical and architectural significance. Golfers could also try their hand across land that the Imperial family enjoyed.
Angela Hatton is a member of the House and Heritage  Comittee of Chislehurst Golf Club, now housed at Camden Place.
[1] DM 4177: Main front of house with balustrade along roof, semi-circular pediment above main doorway. In the driveway, Empress Eugenie in mourning dress stands, profile right. Signed and dated. Verso: inscribed with title, artist and dated. Royal Trust Collection.
[2] Once the home of Lord Camden, famous for his support of the Americans' cause of no taxation without representation
[3] There is a copy of this 9-foot original Impressionist painting held at the Musée National du Château de Compiègne. Camden Place can be seen in the background.Painted in October 1874, Eugenie wears full mourning for the fallen Emperor Napoleon lll.  Violets at the centre of the painting were the emblem of Bonapartism. Eugenie is looking away from the viewer and supported on the arm of her son, whose right hand she clutches.  Louis-Napoleon, wearing British Royal Artillery uniform, looks directing at us.  He is the hope now for the Bonapartists who were already addressing him as Napoleon IV.