The links between the Grimaldi family and Napoleon are old. Prince Honoré V, Prince of Monaco served in the imperial armies in the rank of major and was appointed the Baron of the Empire. He also had the privilege of serving the Empress Josephine by becoming her Grand écuyer. The great-grandfather of the current Prince of Monaco, Louis II, remained throughout his life a fervent admirer of the Emperor and the King of Rome. Descendant of Stephanie de Beauharnais, he collected hundreds of items relating to the epic, some prestigious such as Napoleon's cocked hat or regimental eagles, others more commonplace such as St Helena medals. In 1968, Prince Rainier III opened a museum in a wing of the palace dedicated to this important collection of over a thousand objects.
Today, the Principality ruled in favour of another orientation for the museum. The current Prince Albert II preferred, in his words, "to bring to life the objects and relics that have been brought together rather than see them preserved but hidden away" by organising three large public auctions, which were held in Fontainebleau in November 2014 and most recently in early January 2015. In one of them, the hat of the emperor was the subject of fierce bidding, as the world press noted.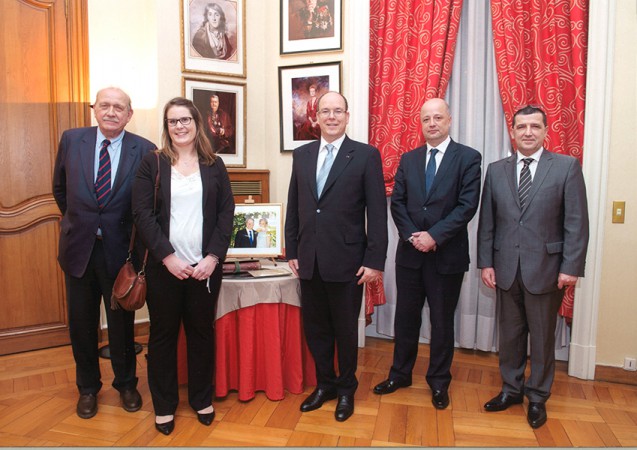 In addition to these sales, Prince Albert also wished to donate several important objects to different institutions. And so, on 15 December 2014, at a small ceremony at the Embassy of the Principality in Paris, the Prince in person gave to the Fondation Napoléon a field writing case in red leather which had been given by the Emperor to Marshal Lannes. He also donated a hand-written letter by Marshal Massena. By this very gesture that honours the Fondation Napoléon, the Prince continues the tradition of his ancestors, in their own way servants of the imperial cause. We herewith offer our heartfelt and respectful thanks.
Fondation Napoléon