Introduction
In May this year, Napoleon finally got his pyramid in commemoration of the Battle of Marengo, 14 June, 1800. The pyramid was built and financed by the Provincia di Alessandria in a project piloted by the president of the Provincia di Alessandria, Paolo Filippi, the president of the Centro Studi Napoleonici, Giulio Massobrio, and Cultural Services manager Gigi Poggio. And the inauguration of the new pyramidal entrance space took place on the weekend of 23-24 May, 2009.

Preview of the collection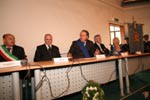 Berthier at the Battle of Marengo and some remarkable military memorabilia loaned by an anonymous local collector.
Partnership