2010 sees the Musée de l'Armée's ATHENA project enter the final stage, with the completion of the renovation of its permanent collections. Now open to the public in their entirety , the collections have undergone a refurbishment process which has seen them all closed, renovated and gradually reopened over seven years.

The completion of the ATHENA project

On 20 March, 2010, the Musée de l'Armée will reopen to the public the permanent collection displays situated in its Eastern Wing, which closed for refurbishment in 2006. The wing covering the period between Louis XIV and Napoleon I (1943 – 1814) was reopened last year for the 2009 Nuit de Musées event, and with the reopening of the Cent-Jours to the Commune collections, the visitor will now be able to pursue their journey through French history. Of particular note is the cuirass, ripped apart by a cannon-ball, which belonged to Carabinier Fauveau who died at Waterloo, and the saddle used by Napoleon III at the Battle of Magenta.

The reopening of the Eastern Wing after four years of major work finally means that visitors to the Musée de l'Armée can stroll through French history from the Middle Ages right up to the present day. This fourth and final stage brings the curtain down on the modernisation project for the permanent exhibition rooms, including the early mediaeval and armoury departments (reopened in December 2005), the Two World Wars section (reopened in July 2006) and the Charles de Gaulle Historial (inaugurated, February 2008).


Ground floor: the Turenne and Vauban rooms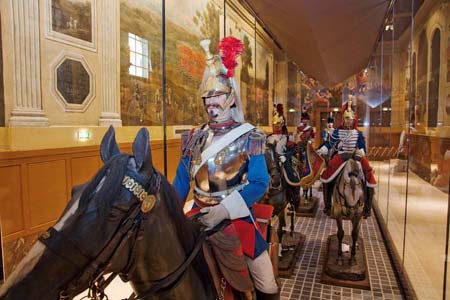 From Louis XIV to Napoleon III, the visitor can proceed through the collections along two routes:

– the political context (right-hand side)
– the military context (left-hand side)

The visitor can thus choose from which angle they wish to approach the collections, whilst the routes are broken up with additional rooms dedicated to particular events or campaigns.

The collections are divided into six periods:

– Military life of the 17th and 18th centuries
– The Revolution, 1789-1799
– The Wars of the Empire 1804-1806)
– Napoleon: 1) War makes the Empire (1806-1809) 2) War breaks the Empire (1809-1815) 3) The fallen eagle and the legend
– 1815-1851: 1) The Restoration: which army for which regime? 2) The July Monarchy: Louis Philippe (1830-1851)
– 1852-1870: the Second Empire, from the coup d'état in 1851 to war in 1870