There are two books which all Napoleon fans (and bibliophiles) should have on their shelves: the first is Jacques de Norvins' Histoire de Napoléon, published in 1827 and illustrated by Raffet, and the second is Laurent de l'Ardèche's work with engravings by Horace Vernet, published in 1839.

As Baron de Marquet de Montbreton, Jacques de Norvins (1769-1854) became an émigré in 1792, returning to France during the Directoire, only to be arrested after the coup d'État of 18 fructidor in 1797. Remaining in prison for two years, he was to be released as a result of a request made by Mme de Staël to Napoleon Bonaparte after the coup d'état of 18 Brumaire (1799). From then on he professed great admiration for the future emperor, as mirrored in the first line of his book: "Napoleon has been the study of my life since 18 Brumaire".

The defeat at Waterloo brought an end not only to Napoleon's but also to Norvins' administrative career. Also like for his august master, it gave him the time to put his papers in order so as to set about writing a history of Napoleon, payin special attention to trying to describe the character of "this extraordinary man".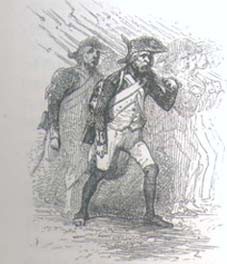 downloaded here.

For a portrait by Ingres of Norvins when he was chief of police in Napoleonic Rome now held at the British National Gallery, click here.