Louis-Napoleon Bonaparte's election to the presidency of the Second French Republic, on 10 December, 1848, was the catalyst for a wave of militant opposition to the new regime. The Prince-President was all too aware that his post could only last four years and was not renewable, and so he pursued an intense campaign in 1850 with the aim of changing the Constitution so as to make it possible to stand again after the four years were up. And as part of this campaign to perpetuate his rule (but also to organise his party and to attempt to unify the country behind him), Louis-Napoleon created a mutual aid society named after the day of his election victory, "The Society of 10 December". Though popular, this grass-roots political grouping soon acquired a slightly embarrassing reputation for being a mere claque for the Prince President, and when members of the society were involved in a fight with Republicans at the Gare de l'Est railway station in Paris, Republican sympathisers such as Honoré Daumier, but also Karl Marx, set about satirising its members as primitive political enforcers. Two emblematic figures were invented, the thug Ratapoil (literally 'naked rat/an obvious rat') and his sidekick, Casmajou ('break my jaw'), both carrying their trademark cudgels. One of the first manifestations of these two scoundrels was to appear in Charles Philipon's satirical daily, Le Charivari, in a series of lithographs by Daumier featuring both men caricatured as violent propaganda agents in the pay of the regime. Nor was Daumier the only illustrator in 1850 to sign caricatures featuring the dastardly duo. Other artists who joined in the denigration campaign included J. Durandin and Charles Vernier.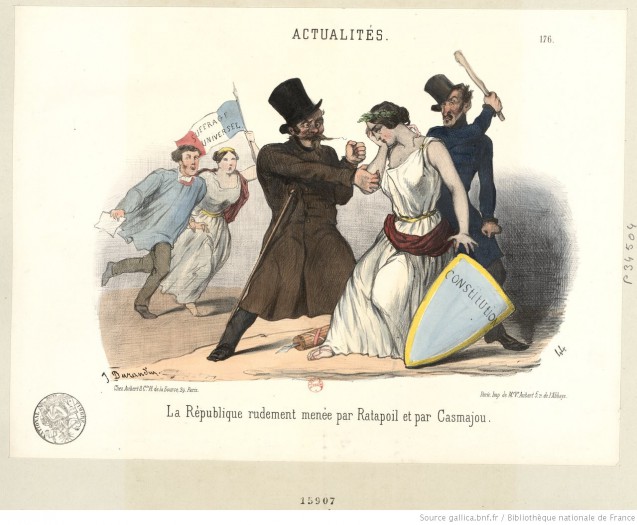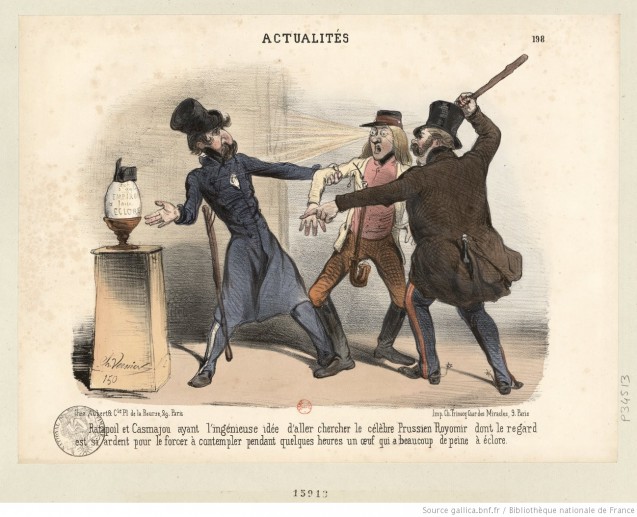 When the society's reputation had deteriorated to such an extent that it appeared irretrievable (partly as a result of the caricatures), the Prince President astutely dissolved it in November 1850 – it had barely lasted 2 years – depriving his opponents of further propaganda fodder.
After Ratapoil had appeared in thirty or so caricatures in the period up to 1851, Daumier made a clay statuette (destroyed when the plaster version was made from it). After the Coup d'Etat of 2 December, 1851, this small plaster cast was carefully hidden in order to escape the censor. The statuette reappeared in 1878 and, for the first time, was exhibited in public during an exhibition of Daumier's works at Durand-Ruel. In 1891, a limited series of bronzes was made from the original plaster cast.
Almost a character from 'Punch and Judy', Ratapoil is characterised by his long emaciated outline, his insolent walk and his provocative stance. His clothes are tragi-comic: a button-up great coat, a shabby hat falling over his left eye, a long cudgel used as a walking stick but threatening nevertheless. This is not a direct caricature of Louis-Napoleon Bonaparte, but the 'imperial' moustache and beard cock an irreverent snook at the future 'Empereur des Français'. Daumier modelled the statuette with great liberty and harsh realism – it was "expressionist" well before the term (and artistic mouvement) appeared.
A fervent republican, Daumier designed the character as a political weapon to fight Bonapartist propaganda and the threat of the restoration of the Empire. There is a famous anecdote which tells how the great historian Michelet, on admiring the statuette in the artist's atelier, remarked: "Ha! You have hit the enemy right between the eyes! You have never pilloried the Bonapartist idea like this before". Indeed, Ratapoil is first and foremost a symbol. And to cap it all, in 1875, the word was included in the Grand Dictionnaire Universel du XIXe siècle: "de rat, de à, et de poil. Familier. Partisan du militarisme, et particulièrement du césarisme napoléonien" ("from 'rat' and 'naked'. Colloquial. Partisan of militarism, and particularly Napoleonic imperialism").
Karine Huguenaud, March 2002 (translated, revised and augmented in May 2017 by Peter Hicks)