Swiss-born Abraham-Louis Bréguet was encouraged to go into watchmaking by his step-father Joseph Tattet, who came from a family of watchmakers and had a showroom in Paris. Bréguet completed his apprenticeship under an horlogist in Versailles. He established his own house in Paris in 1775 on the Quai de l'Horloge and became a master in 1784. A meeting, facilitated by his maths tutor Abbé Marie, between the talented young Bréguet and Louis XVI, led to many Royal commissions including that of a "montre perpetuelle" (a self-winding watch), one of the numerous innovations that Bréguet made. He worked for all the courts in Europe and, during the French Empire, counted among his clients Bonaparte, Josephine, Talleyrand, and even Caroline Murat for whom he made the first ever wristwatch in 1810. Bréguet also produced a timepiece which simultaneously displayed the date according to both the Republican and the Gregorian calendars. Other inventions included the tourbillon regulator (1801), "pare-chute" shock-protection, and a balance-spring-powered travel clock that could function during transportation (Napoleon Bonaparte himself ordered one of these carriage clocks form Bréguet for his Egyptian campaign).
An astute businessman, Bréguet developed markets all over Europe designing watches to suit his clients tastes (for example, he developed pieces decorated specifically to suit Turkish clients, including Turkish numerals) and opened a showroom in St Petersburg in 1808 to cater to the flourishing Russian clientele, including Tsar Alexander I, who named him official Horloger to His Majesty and to the Imperial Marine of Russia. Although most of Bréguet's watches were luxury items, he also came up with an ingenious crowd-funding idea whilst in Switzerland between 1793 and 1795, where he had taken refuge to escape the Terror. The relatively simple watch on offer, which had only one hand and which indicated the time to within one or two minutes, could be purchased via an up-front payment, made on order, of a quarter the final price. The 'subscription watch' (as it was known) gained Bréguet a wider and different clientele, and it would be the basis of the first "montres à tact", which he invented in 1799.[See an early tact watch dating from 1800].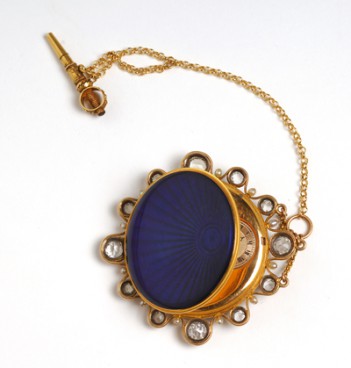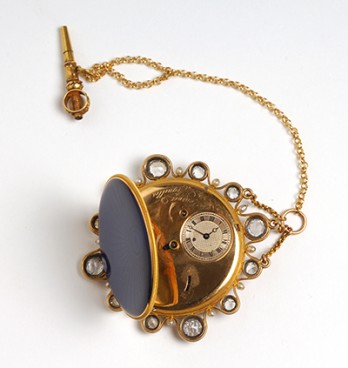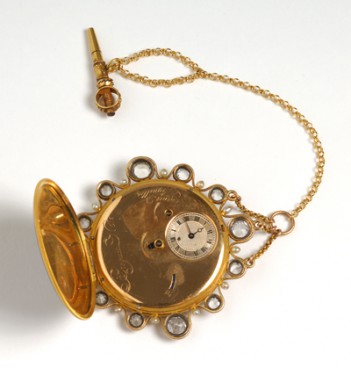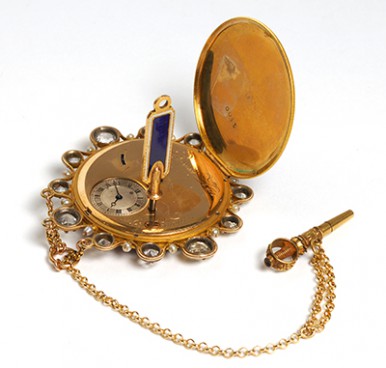 "Montre à tact", comes from the French word "tact" meaning "the sense of touch". This particularly magnificent example was sold by Bréguet on 14 December 1809 to Jerome Bonaparte, Napoleon's youngest brother, and King of Westphalia between 1807 and 1813. As well as enabling the wearer to tell the time in the traditional fashion by opening the watch-case and looking at the internal dial, it also enabled him to check the time in the dark by turning the front disc clockwise until it went no further and then feeling at which hour (here indicated by diamonds) or half hour (here indicated by pearls) the diamond-studded arrow was positioned.
Amusingly, another meaning of the word "tact" in French is the sense of sensitivity to others (hence the words "tact" and "tactful" in English). Indeed, according to the Duke of Wellington, these "tactful" watches were used by young people who wanted to be able to tell the time discreetly and who, out of courtesy – in order not to appear bored or impatient – consulted their watches by touch alone, without taking them out of their pocket.
A watch of this kind might have been worth 1,000 to 2,000 F for a simple model and up to 5,000 F when decorated with precious stones. This luxurious model is decorated with blue enamel laid over an intricate guilloché-engraved gold (one of Breguet's trademarks). [More about how Breguet's "guilloché" technique was achieved at this link including a video in English]. A similar tact watch was ordered by Josephine de Beauharnais from Bréguet in 1800 and given to her daughter Hortense.
Rebecca Young (March 2017)