Pierre Branda: Could you tell us more about the person responsible?
Read here the original article relating the facts of the incident.

Pierre Branda: A poor museum guard sat in the imperial foldable leather armchair. He's now feeling very guilty. Particularly since he's a massive fan of the Emperor. I'm not trying to imply that there were extenuating circumstances; it was just a foolish act of devotion. It certainly wasn't malevolent.
Is this type of incident current in exhibitions?
Pierre Branda: Accidents of this sort can happen in any exhibition, though they're not common. The transport or the handling and packing of the works can sometimes cause damage. But when such things happen, they are never serious because teams of restorers are always present. As for this folding chair, in fact the second restoration has improved the original state of the piece. The media has blown this story up out of all proportion. That being said, it's not usually a good idea to sit on period chairs. But as the saying goes: "to err is human".
As for the exhibition, what are your first impressions?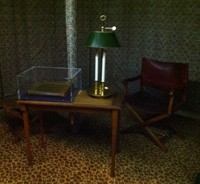 Pierre Branda: This is an extremely important exhibition in terms of Napoleonic history. Thanks to the work of the curators Jehanne Larzaj and Justin Beaugrand-Fortunel, we now have a very clear idea of how Napoleon went about in his bivouac. Particularly impressive and instructive is the work they have done on the Desouches beds. The exhibition is exceedingly informative and beautifully laid out. And the setting perfect: the Musée Fesch provides the optimum backdrop.

How did the Fondation Napoléon contribute to this exhibition?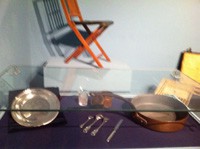 Pierre Branda: Several objects from the Fondation Napoléon collection are on loan to this exhibition, namely: the portmanteau nécessaire Napoleon used on the day before the Battle of Austerlitz, some of his silver cutlery, a headquarters spyglass and books which he took with him to Elba. Some of the Fondation team have participated in the catalogue of the exhibition; there's an article by François Houdecek. And we also provided financial support. We are very honoured to contribute thus to this major exhibition. It will be remembered, I am sure of it.

(February 2014, interview by Marie de Bruchard)