Why did you choose the Malet conspiracy as the subject of your new book?
Thierry Lentz: The subject has for a long time interested me; I discussed it briefly in the second volume of the Nouvelle Histoire du Premier Empire and went into it in a little more detail in my biography of Savary. In both cases, however, I felt there was still a great deal that remained if not to be discovered, then certainly to be investigated and explained. No serious attempt at studying the episode had been made for over forty years and I decided that it would be worthwhile to revisit the subject. I thus returned to accounts of the episode and the research already performed, almost right back to the investigation itself, and started afresh in local, national and military archives. I combed back through memoirs and other accounts from the period (this extravagant conspiracy very quickly inspired a number of books and publications). I made several discoveries, things that my predecessors had missed. My account offers a new reading of this conspiracy, which was without doubt less dangerous than is sometimes believed but probably more troublesome for the Napoleonic regime than you might initially think. I also offer a contrasting portrait of Malet, and a different approach to the assistance he received. For example, I took great pleasure in doing justice to the "Philadelphes sect" story, a sort of revolutionary Masonic group believed to have conspired with Malet. I show that – despite being reproduced endlessly in later retellings of the episode – it was nothing more the product of some nineteenth-century authors' fertile imaginations. To put it more bluntly, there is as much substance to the Philadelphes sect story as there is to the legend of Bigfoot.
Was Malet mad?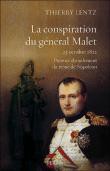 Roi de Rome's accession, and the question, which Napoleon's marriage to Marie-Louise and the birth of his heir was thought to have answered, once again reared up. It could even be said that Napoleon's dramatic reaction to the affair actually made the issue even more pressing. The second element to this question is the role of the senate. In both of Malet's projects, in 1808 as in 1812, it was the senate that proclaimed the end and installed a new regime. This was to prove much food for thought for opponents of the Napoleonic regime and most notably for Talleyrand. It is what I call "General Malet's laboratory", and which could almost be considered a posthumous victory.