History and location

Bessonies, a small commune in the Lot département, sits at an altitude of 580 metres above sea level. The huge Château de Bessonies was built in the 16th century and features two round towers that flank the front facade. It is particularly famous for being the location of Maréchal Ney's arrest on 3 August, 1815. Having fallen into disrepair in the interim, it was purchased in 2000 and restored to its former glories.

After being accused of treason against the Bourbons during the period known as the Cent Jours, Maréchal Ney took refuge in the castle. The castle belonged to the Bessonies, to whom Ney's wife, Aglaé Louise Auguié, was related (the baroness of the castle was her first cousin).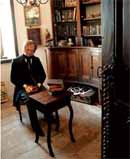 Maréchal Ney's arrest

Ney figured amongst the some 110 names on a list condemned as traitors for having returned to Napoleon I's service before 20 March, 1815 (the date that saw Louis XVIII leave the capital) and fled for the provinces. The maréchal took refuge in the Château de Bessonies, which by this time was old, rundown and had been damaged during the Revolution (its armouries in particular had been destroyed by revolutionaries).

Whilst in hiding, he lived in at large room (which included a small adjoining library) on the ground floor, looking out onto the garden. His furniture included a Louis XVI four-poster bed with yellow twill curtains, a commode and a large leather armchair. Ney was known to the servants as M. d'Escaffre and only left his room for meals. The legend goes that he made the mistake of leaving his Turkish sabre, which he had received as a wedding gift from the emperor, on his window seat; this was spotted, and Ney's identity and whereabouts were betrayed.



However, it is probably more likely that one of the baroness' guests, M. de Latour – a fervent royalist -, recognised Ney and alerted the prefect of the Cantal département, a M. Locard.

Whatever the story, the prefect, whose suspicions had already been raised by Madame Ney's ties to the property and its owners, was informed that Ney was in hiding not far from Aurillac. Upon learning of Ney's betrayal, on the night of 2 August the post-master for Aurillac, a certain Canterloube, set off in haste for Bessonies, hoping to warn the maréchal. Unfortunately for Ney, an accident befell Canterloube en route, resulting in a broken leg and preventing him from arriving in time.

At daybreak on 3 August, fourteen gendarmes encircled the castle. Ney surrendered without resistance and on 4 August, he was imprisoned in the town hall in Aurillac. He arrived under escort in Paris on 19 August, 1815.



Worth a visit…

Although there is no museum as such, the current owner has opened up the castle to visitors. As well as offering guest rooms, there are also guided tours of the property, which include a look at Ney's room and library, now restored and featuring period furniture and furnishings from the time of Ney's brief stay. A wax model of the maréchal, donated to the castle by the now-closed wax museum in Aurillac, can be found in the library and serves as a reminder of the famous episode.
The castle is open for group visits (duration: ninety minutes), accompanied by the owner, every day except Monday and Tuesday, between 2pm and 5pm. Advance reservation is required.

Emmanuelle Papot (October 2010, tr. & ed. H.D.W.)


Château de Bessonies

Category:

Museums, Stately Homes and Residences

Region:

France (outside Paris and Ile de France)

Address:

Le Château
46210 Bessonies

Tel : +33 (0)6 03 82 20 18
+33 (0)5 65 11 65 25
+33 (0)6 14 93 05 91

46 210 Bessonies, France

Access:

By appointment only

Opening hours:

The castle is open to visitors from Easter to All Saint's Day, every day apart from Mondays and Tuesdays. One visit at 2pm. Bookings only.


Telephone:

+33 (0)6 03 82 20 18

Website: