Elba is situated in the Tyrrhenian sea opposite Piombino from which it is separated by a canal a mere 10 miles long. This small island 14 miles long and 6 miles wide, is where Napoleon chose to retire when he abdicated for the first time. The Fontainebleau treaty granted him ownership and sovereignty of the island. The Emperor landed in the capital of his principality, Portoferraio, on 4th May, 1814, and started his journey back to France on 1st March, 1815, for an adventure that was to last 100 days.

This stay left its stamp on the island. Napoleon undertook a series of transformations in order to improve local resources and put up a road network. He quickly organized a small court around him and set up a government with Bertrand (both Secretary of State and Home Secretary), Drouot ( Military Governor of the island and War Minister), and Cambronne (Commander of Portoferraio). With the arrival of Napoleon's mother and Pauline, society life resumed its course: theatre performances, concerts, balls and receptions were frequently organized.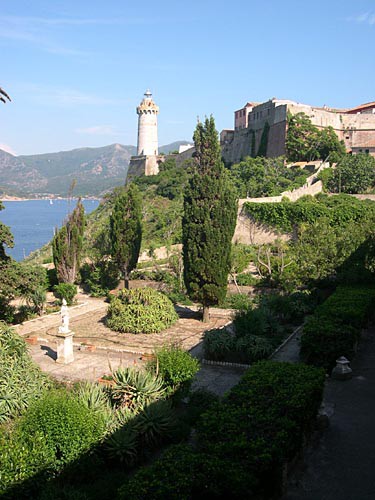 Portoferraio Town-Hall became Napoleon's first residence. From 4th May to 21st May , 1814, he lived in an apartment on the first floor which had been that of Chief of Battalion, Joseph Hugo and his young son Victor Hugo. Two plates commemorate the passage of these illustrious tenants.

Napoleon then took up residence in the Mulini villa at the top of Portoferraio. He had the central part of the first floor built to accommodate Marie-Louise and the King of Rome but neither of them came. Pauline eventually occupied the rooms. On the ground floor are the Emperor's rooms: the drawing-room, the library, the bedroom, the study and the counsel room.

Napoleon's mother's residence, "Casa Vantini", is situated 12 via Ferandini, 110 yards after the Church of Forgiveness where a special service is celebrated every year on 5th May to commemorate Napoleon's death.

Napoleon's third residence is situated in the interior of the island in San Martino. In a small valley planted with vines, away from the heat and turmoil of Portoferraio, he had Paolo Bargigli, the architect and Vincenzo Antonio Revelli, the decorator, transform a small house into a private villa. The neo-classical building visitors discover upon arriving is Demidoff palace built in 1851 by Princess Mathilda's husband, a great admirer of Napoleon's.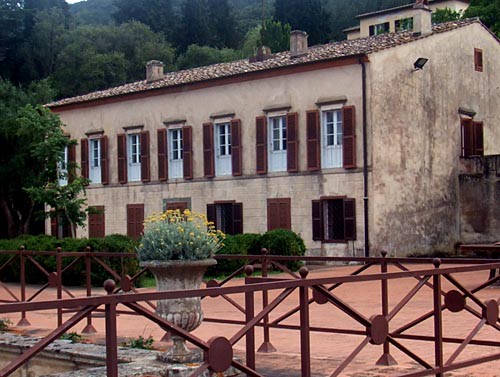 San Martino villa is just behind it. The eight rooms that were inhabited are on the first floor: 3 were occupied by the Emperor, three by Bertrand and the officers. Two others were reserved for meetings and receptions: the Counsel room, also called "Room of the Two Doves" and the Egyptian room decorated in an Egyptian style.

Many places still bear the Emperor's stamp. In Monte Giove, after Marciana Alta, Napoleon settled near the Hermitage of the Madonna del Monte from 23rd August to 4th September, 1814. He welcomed Marie Walewska and their son Alexander (1-3 September). In Poggio, "Napoleon's Fountain", whose water was appreciated by the Emperor, is nowadays a flourishing place of trade. In Porto-Azzuro, the fortress overlooking Longone Bay was Napoleon's residence from 5th September to 24th September, 1814. In Procchio Bay, a beach is still called "Spiaggia Paolina" in memory of Pauline who, according to tradition, enjoyed bathing there.

k. Huguenaud
Elba

Category:

Museums, Stately Homes and Residences

Region:

Europe (outside France)

Address:

Ufficio Turistico Arcipelago, Viale Elba, 4
57037 Portoferraio, Italy

Access:

General public


Telephone:

+39 0565 91 46 71

Website: