On Friday 12 January 2018, the organ of the church of Saint-Pierre and Saint-Paul in Rueil-Malmaison (Paris Region) whose gilded case, dating from the late fifteenth century was donated by Napoleon III, was blessed by the episcopal vicar of Nanterre, in celebration of the completion of an eighteen-month restoration operation, at the cost of €205,269, of which nearly 25,000 euros was donated by members of the public.
The Cavaillé-Coll instrument, which is 153 years old, was entirely restored last year by the Robert Frères workshop, located near Nantes, chosen among six candidates by an expert appointed by the DRAC (Regional Department of Cultural Affairs). The restoration required eighteen months of meticulous work. The instrument was dismantled, taken to the factory workshops and then reassembled. The organ case which dates from the late-15th century has also been cleaned.
The history of this organ is closely linked to that of the Imperial city. Napoleon III's attachment to the church of St Peter and St Paul – whose foundation stone was laid in 1584 – is not surprising: his mother, Queen Hortense, and his grandmother, Empress Josephine, are both buried there. Their tombs are classified as Historic Monuments, as is the church. The organ case donated by the Emperor in 1862 dates from the late-15th / early-16th century and is the work of the Florentine sculptor Baccio d'Agnolo.
The famous French organ builder Aristide Cavaillé-Coll was commissioned to build a new instrument to fill the Renaissance decor, using noble materials, which was delivered in 1864. The organ is composed of 2 keyboards each of 54 notes as well as a pedal keyboard. The organ case has been registered as a protected monument since 1970, the organ itself since November 2013.
The restoration work, which cost €205,269, was financed mainly by the DRAC (€74,304) and the town of Rueil (€71,441). But it was also made possible thanks to the financial support of individuals, inhabitants of Rueil and elsewhere. Following a public fundraising campaign launched in 2013 by the Fondation du Patrimoine, 175 donors provided financial support totalling €24,899 to safeguard this musical heritage. The Fondation du Patrimoine, the  Fondation Sainte-Geneviève and the parish of Saint-Pierre and Saint-Paul also made a significant financial contribution.
The blessing of the organ by Monsigneur Yvon Aybram, was followed by a weekend of concerts: namely by the organ teacher at the Conservatoire de Rueil, Paul Goussot; by the titular organist  Philippe Decourt; by Thierry Escaich, winner of four "Victoires de la musique Classique" and also a composer and teacher at the Conservatoire National Supérieur de Musique et de Danse de Paris; and by the students of the organ class. There was also a technical presentation of the organ by expert Thomas Monnet.
More information on this organ (in French)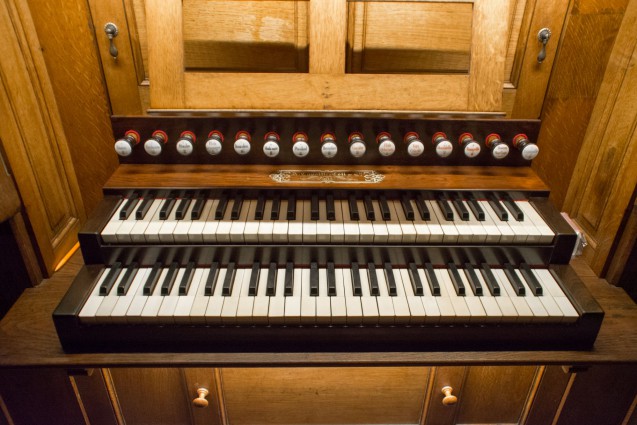 Source: Le Parisien, 11 January 2018