Score for the Funeral March played by the St-Helena Local Militia band while the body of the Emperor was carried from the tomb to the town
Manuscript bearing the inscription in French: "Marche funèbre jouée à Sainte-Hélène par la musique de la milice de l'ile [illegible] la translation du  corps de l'Empereur de la Vallée du tombeau à la ville".
This hand-written score of an arrangement of O come, all ye faithful, (or "The Portuguese Hymn" as it was known at the time) was among the souvenirs that Napoleon's valet Louis Marchand brought back from the expedition sent to St Helena in 1840 to repatriate Napoleon's mortal remains to France (known as the "Retour des Cendres").
Find out more and listen to a piano recording.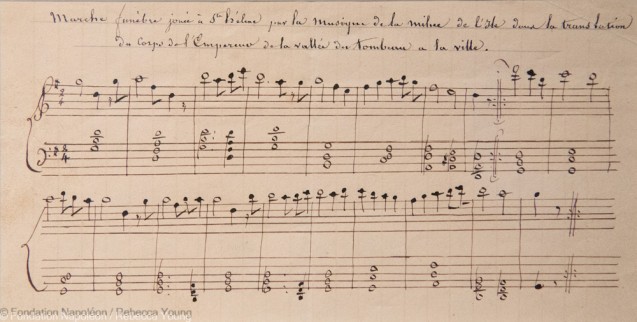 Date :

Circa 1840

Technique :

ink on Paper

Place held :

Private Collection

Photo credit :

Rebecca Young