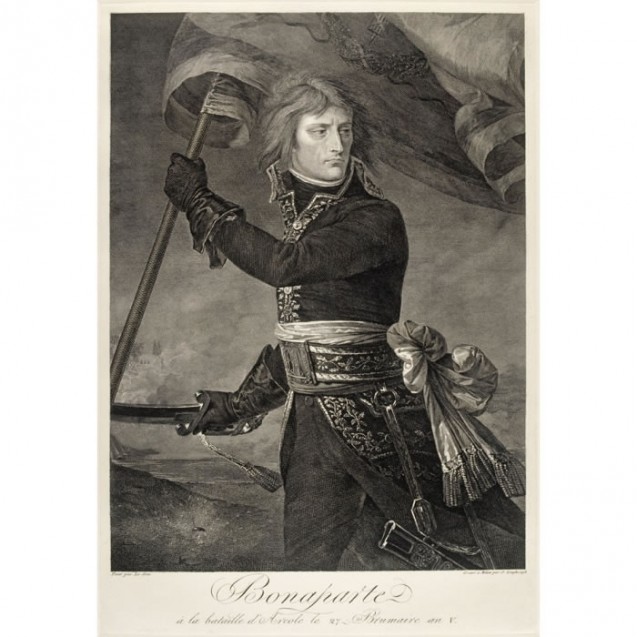 One of the first ever paintings of Napoleon was that by Baron Gros of the young general crossing the Arcole Bridge (though Gros in his correspondence refers to it as Lodi). According to ADC Lavalette's memoirs (who also thought it was Lodi), Josephine in Milan at Palazzo Serbelloni had to hold Bonaparte on her knees to allow Gros the time to make his sketch, and this was turned into an engraving by Longhi. Longhi's engravings appeared in France in 1798.
But what of Britain? When did the first images arrive there?
The half-English, half-Italian British artist and liberal Maria Cosway, but also best friend in England of the Corsican leader in exile, Pasquale Paoli, wanted an image of the young prodigy. In early 1797, she therefore commissioned a Venetian painter, Francesco Cossia, to do the job. Apart from this work, Cossia is otherwise unknown. His painting, now held in London at the John Soanes' Museum (John Soanes was a massive Napoleon fan) comes with a letter from Cossia claiming that Napoleon sat for the artist on 14-15 March 1797.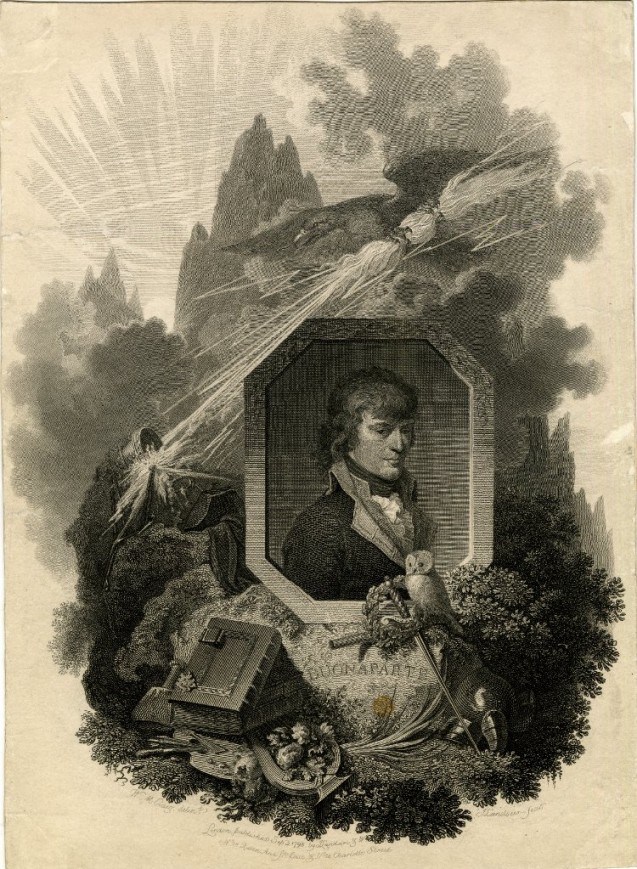 There are several problems with this image – not least because the painting looks nothing like Napoleon. Worse still, Cossia's claims of a sitting are on shaky ground. The painter said that Napoleon sat for him in Verona (again during a meal) but our Correspondence générale shows the general in Mantua and Sacile at the time fighting the battles of Tagliamento and Sacile… But that is by the by.
The painting reached Cosway in England (after falling into an Italian river) and was to be engraved (with slight variations) by Luigi Schiavonetti in London in July 1797 and circulated from there. Though the first image to arrive in Britain, the painting does not appear to have been put on public display. The engraving briefly resurfaced two years later as the frontispiece to a very faulty (but positive) biography of Napoleon, W. Craig's "Anecdotes to accompany an engraved portrait of General Bonaparte", published in 1799. This rare publication does not seem to have been produced (or bought) in huge numbers.
It was not until the summer of 1801 that images of the First Consul were to be viewed in Britain by the masses. As Cossia had done, the artists were very keen to establish the fact that their images were "truest to life".
The French-speaking painter John Masquerier reported an expensive visit to France in late 1800 and the difficulty of getting Napoleon to pose for him. He notes a somewhat bizarre (and incredible?) incident at his friend Thérèsa Cabarus's house, where he was allowed to peek through a doorway at Napoleon eating a meal so as to get a good likeness.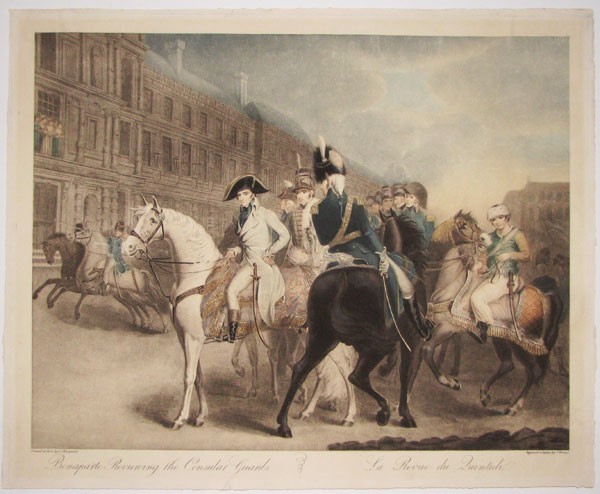 Masquerier produced a representation of Napoleon reviewing his troops at the Tuileries three days after the rue Saint Nicaise incident. A small original painting was then transformed in London into a vast panorama-like image (27 feet by 17) and seen by great numbers in central London in April and May of 1801. Visitors leaving the show were given the opportunity to buy an engraving. The two painter-entrepreneurs who organised the exhibition (Masquerier and Charles Turner) made a tidy £1,000! At this time of the London preliminaries to the Peace of Amiens, Napoleon's star was in the ascendant, and public opinion was agog for the extraordinary Consul. So, when this first show closed, another opened. The painting exhibited was officially by Lefebvre (but there were squabbles over the authorship). It is today owned by the Fondation Napoléon and a reproduction of it towers over our entrance hall. Similarly outsized, it was exhibited on Piccadilly for two months, and a visiting French diplomat praised its likeness. It too was to be marketed as an engraving, thereby fixing in Britain the lineaments of the wonder of the age: not yet including the signature hat!
Peter Hicks, March 2020